Exhausting a renewable resource  
PART – 1
Ramgarh Lake is situated about 30 km away from Jaipur city at Jamwa Ramgarh. The dam was commissioned by the Maharaja of Jaipur Sawai Madho Singh II and was completed in 1903.
It was developed as a multi-purpose project aiming to provide the irrigation facilities to nearby area and the water supply for Jaipur city. It started supplying water to the city in 1931.
In 1961, it was reserved only for water supply to Jaipur city and till year 2000, the lake had been a source of water for the Pink City.
The dam was constructed on Banganga River near Jaipur in 1903 having a catchment area of about 769.20 sq. km. spread over four Tehsils and capacity of 75.0 MCM
The Ramgarh Lake is a man-made water body covering an area of 15.5 sq. km. During monsoon, the lake once presented the most alluring scenic beauty for visitors. It was an interesting place for bird watchers as they got to see flocks of birds including migratory birds around this artificial lake.
The thick forest near Ramgarh Lake was home to many wildlife species such as Neelgai, Chital and lions and was once a hunting ground for the Maharajas of Jaipur. Ramgarh was pronounced a Wildlife Sanctuary in 1982, by the Government of India.
Ramgarh Lake became famous during the 1982 Asian Games when the clean and beautiful waters of this lake were the host for the rowing competitions.
In the present time, the four rivers, Roda, Banganga, Tala and Madhoveni, which used to bring water to the lake, have gone dry due to the deforestation and mining activity carried out in the catchment area.  The dam which was once the home of reptiles and other aquatic wild life is dry since 2006, leaving no food like little fish to feed on and has resulted in disappearance of all aquatic life.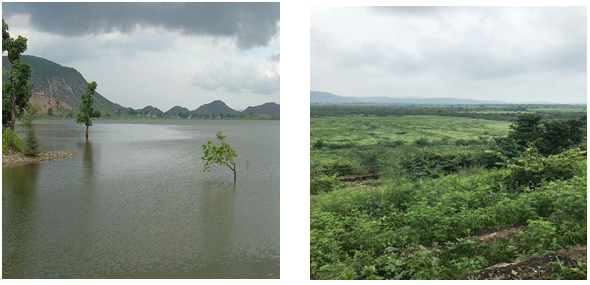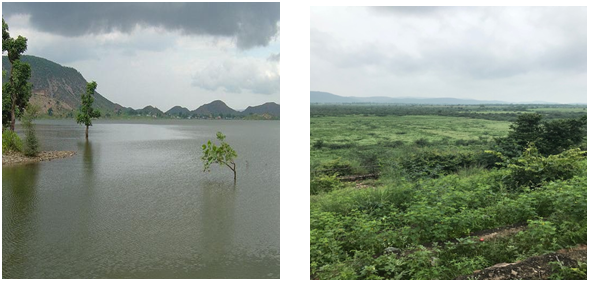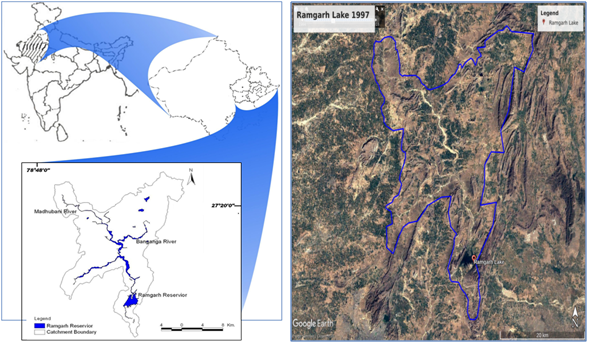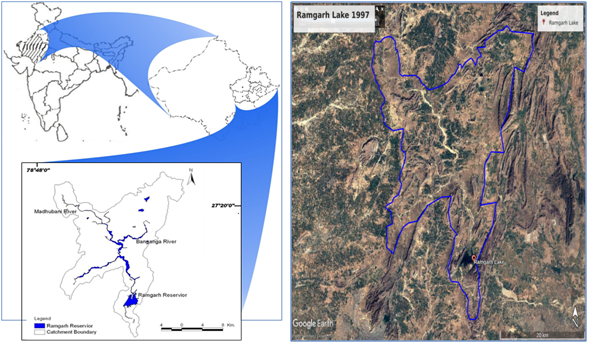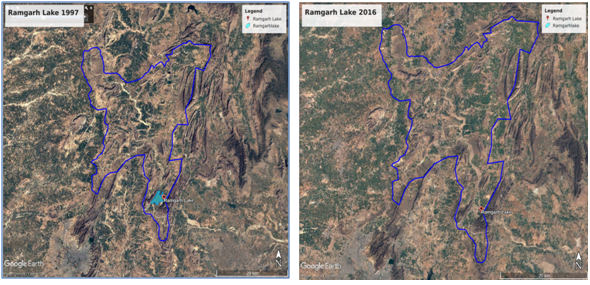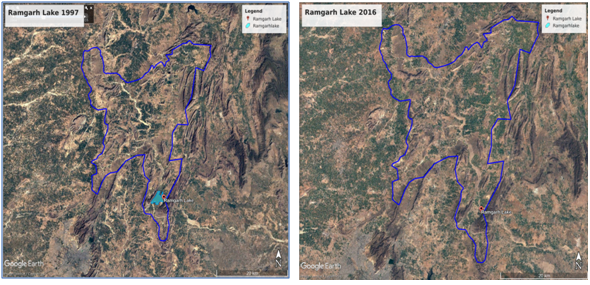 We shall discuss the factors responsible for drying of Ramgarh dam and about the possibility of restoration this lake in part 2 of this blog.
At the moment we are picking up one very specific aspect of Dam management in relation to Ramgarh lake i.e. RESERVOIR SEDIMENTATION, especially because this is a man made reservoir and such dams and reservoirs are made to ensure availability of water & energy and to reduce risk of flood.
The questions which arise are:
1. Whether Ramgarh lake was designed to be renewable or exhaustible resources?
2. Whether Ramgarh lake was maintained and operated as a renewable or exhaustible resource?
There is an engineering thought process where the structure is designed to have a certain life span, which could range from 10 years to 100 years. In such dam or reservoir design it was only targeted to remain operational till its desired life/age and there after it was nobody's concern if it did not remain a reservoir at all due to continued sedimentation.
Was such the thought behind the designing of Ramgarh Lake?
Interestingly, life cycle approach is in conflict with the sustainable development goals which were aimed at creating assets which could be used by generations to come hence this concept would not have been followed while designing Ramgarh lake.
Most projects like construction of tankas, step wells, or dams or reservoirs undertaken by the Kings/rulers of ancient India were sustainably developed and cared as a renewable resource so that it could satisfy the need of the current as well as future generations.
The then king of Jaipur would not have wanted or allowed the reservoir to fill with sediment, meaning hereby that he must not have thought of Ramgarh Lake to be an exhaustible resource. However, it became an exhaustible resource because those who were entrusted to look after the lake did not care to implement reservoir sedimentation management approach to save the storage space or reduce the storage loss due to sedimentation.
We wish that those responsible for maintaining Ramgarh dam had maintained the storage volume till eternity. This would have benefited both present and future generations and would have prevented a renewable resource from becoming an exhaustible resource.
In India we make fresh ponds, lakes and reservoirs somewhere or the other everyday to increase the water holding capacity of these structures but tend to neglect the fact that in the absence of our attention the existing structures are becoming shallower due to deposit of sediment and one should not be surprised if serious analysis indicates that despite of building of new structures each year, the total holding capacity of all structures combined together is reducing each year.
Interestingly the average global storage loss due to reservoir sedimentation is estimated to be on the order of 0.8% to 1% per year globally. The reservoir benefits are lost if the reservoir is allowed to get filled with sediment and thereafter it becomes very difficult to restore the reservoir.
In our opinion when designing/operating a dam or a pond or a reservoir for the purpose of maintaining water storage keeping the aspect of sedimentation management in mind will make the reservoir a renewable resource.
There are more than a dozen methods which can be adopted to Manage/reduce Reservoir Sedimentation. It will be interesting to note that SILVERON while constructing two small ponds at Dhundhariya and Bighana for SABMiller India, still took care to  design an extremely simple structure in the flow path of rain water to reduce the quantity of sediments entering the pond.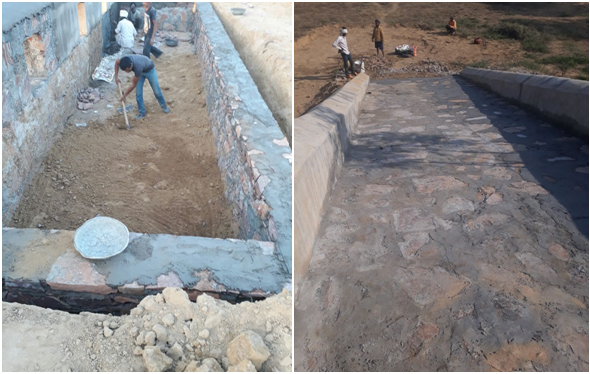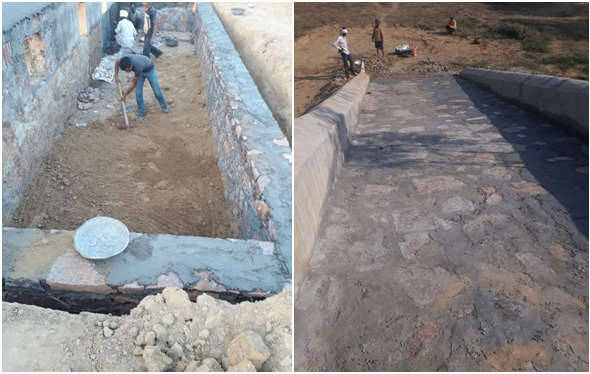 During monsoon the rain water flows in from higher level and falls in the sedimentation chamber and settles in the pit while water with less sediments flows through the openings down a stone pitched ramp into the pond.
To be continued …